One fine day, I was reading a very interesting blog post:
Choosing a Free Linux Distribution for a server
. In doing so, I opened three tabs in my browser:
openSuse
,
CentOS
,
Fedora
. Three linux distributions to download and experiment with (have fun with to the max until uni resumes) ! 😀
I started to download openSuse – I had always wanted to download it and give it a try – at Softel Triolet, I was trying to download it at work (sucking the bandwidth when the manager is not here :D). but unfortunately, couldn't download it 🙁
Whilst downloading from FlashGet, the iso file was being stored in my FAT32 partition (fat32 so that Ubuntu can read it, maybe). The problem there was a write to file error: please use SCANDISK utility! I googled the solution which was: to convert the partition to NTFS to support more than 4 GB download. and Partition Magic Pro 8 did the work!
openSuse Installation was quick and I am very happy with it!
openSUSE rocks!
I am happy to blog from openSuse 11! Yupi, that's freedom. I want to get rid of Windows as soon as possible: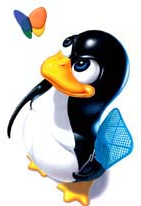 Now the cool stuff that I want the OS to provide me with:
1. Flash plugin for firefox
2. HP laserjet p1006 driver and good configuration
3. Disc Burning Utility
4. My laptop features – hotkey, bluetooth, standby etc
5. My software:
Alternative for
Adobe Photoshop
Adobe Flash
QuarkXpress/ Adobe InDesign
Blender/ Maya
Google Desktop ( I like it a lot)
Microsoft Visio, Project
Windows Media Player/ powerDVD
6. NetBeans
7. Tortois CVS
8. Adobe PDF pro
Elo openSuse, bye bye Windows, slowy but surely, the Microsoft Empire will melt down, especially in times of Hot waves of Recession!
A warning sign (Disclaimer): I don't want this migration to automatically tag me as: anti-Microsoft Geek. My reason for doing so can be found here on my all time favourite blog coding horror.